Ask any digital marketing agency, and they will tell you to use Facebook Ads for lead generation. Learning how to advertise on Facebook as an advertising agency is imperative.
FB's ad reach is far more than people estimate. It boasts 2.17 billion users, and it's increasing. So, if you are confused about why you should invest in advertising on Facebook or where to begin, do not worry. I have you covered.
This comprehensive guide will answer all your questions about Facebook Advertising in 2023.
Facebook advertising: What it is and how does it work?
Facebook ads are perhaps one of the most powerful social media platforms, allowing you to reach your target demographics. You can showcase products or services with the ads and achieve your marketing goals within a reasonable budget.
It can increase brand awareness, drive website traffic, generate leads, and ultimately boost sales at an affordable budget compared to others.
You can target by serving ads to users based on their:
Demographics (age and gender)
Location
Specific interests
Other information
FB charges you based on per click, per thousand impressions, per view, or engagement. You can set the budget for the campaigns, whether daily or lifetime, allowing for flexibility and control over advertising spend.
The Facebook ad offers a range of options, including images, videos, carousels, and more. Choosing the right format depends on the campaign objective and the nature of the content being promoted.
However, what to choose, including ad formats, audience targeting, and budget, depends on your objective.
How much does it cost to advertise on Facebook?
There isn't an absolute figure that anyone can give on "how much will it cost to advertise on Facebook." If you have a basic understanding of online advertisement, you know that the cost will depend on various factors. The variables include:
Objective: The expense of the Facebook ad will be directly impacted by your campaign objective (e.g., brand awareness, clicks, conversions, etc.)
Target audience: The cost of ads will increase when you limit your target demographic in contrast to a more expansive one.
Ad placement: The charges will vary depending on where the ads are shown on the user's device, e.g., news feed, sidebar, etc.
Campaign duration: It is obvious, but duration (the number of days and hours) will affect the total expense.
Industry: The ad cost varies based on the niche/industry you are in.
Time of year: Generally, the ad cost will be higher during the festive seasons and industry-specific events.
Ad quality and relevance: The performance of your ad (engagement and relevancy) will directly hamper the ad cost.
Frequency: Frequently viewing similar ads too often results in ad fatigue, affecting engagement and higher costs.
Location: The location is definitely a significant factor because of market saturation and competition.
Irrespective of these factors, there are different strategies to optimize ad spending effectively.
Facebook ad account overview
Facebook has a unique way of letting you manage the ads. It can be overwhelming for someone who has never tried FB ads (telling you from my beginner experience).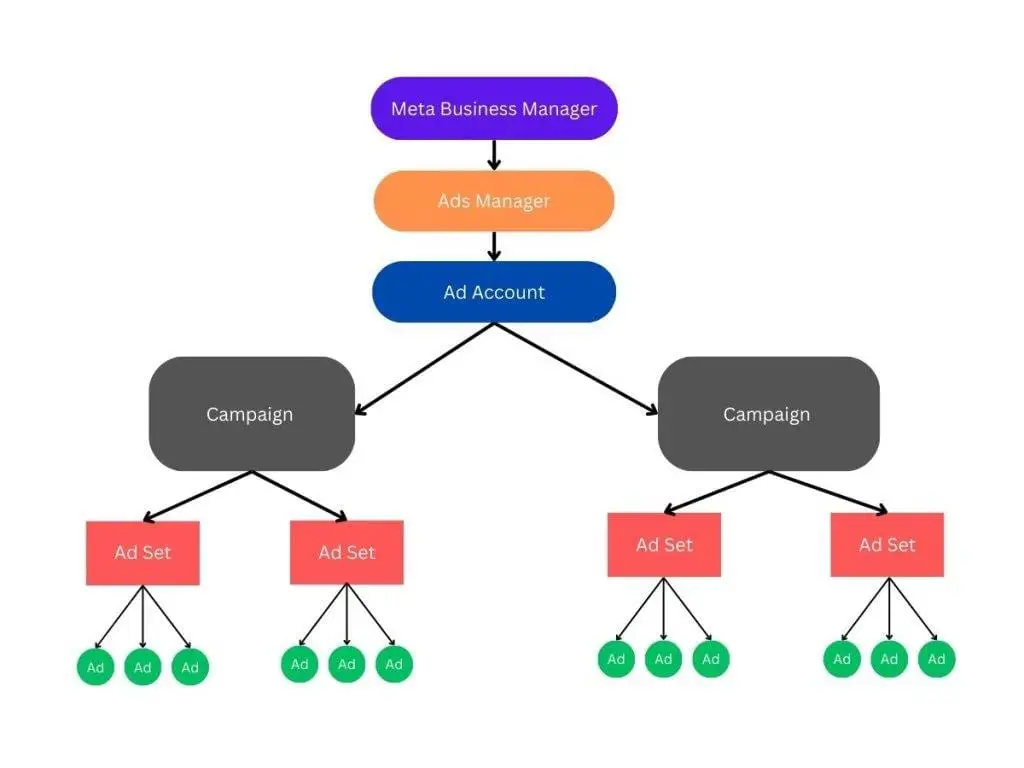 Let's find out what each of these do
Meta Business Suite
It is a centralized account for all your ads manager and business manager. You can manage multiple accounts, access insights, and converse with customers on FB and Instagram accounts in one place. Meta Business Suite is also integrated with Facebook Ads Manager so that you can create and manage ad campaigns across Facebook and Instagram.
Business Manager
This tool allows you to manage and organize a business's Facebook assets, like Pages, ad accounts, and team collaboration in one centralized location. Facebook Business Manager is a handy tool for managing. For FB Ad Agencies managing ads for their client, it is mandatory to have it. Also, to create a Custom Audience, you have to have a Facebook Business Manager.
Ads Manager
The Facebook Ads Manager is for creating, managing, and analyzing your FB and Instagram ad campaigns. You can have multiple ad accounts in one Ads Manager account. Even though you don't need it, I recommend you create a Meta Business Suite/Business Manager to avoid headaches in the future as your business grows.
Ad Account
Every Facebook page will have only one ad account. You will find it under an Ads Manager.
Facebook Page
The Facebook Ads Manager is for creating, managing, and analyzing your FB and Instagram ad campaigns. You can have multiple ad accounts in one Ads Manager account. Even though you don't need it, I recommend you create a Meta Business Suite/Business Manager to avoid headaches in the future as your business grows.
Ad Campaign
Every Facebook page will have only one. You will find it under an Ads Manager.
Ad Set
This section of FB will give you access to features such as ad budget/bidding, schedule, and audience targeting. You can have multiple ad sets in one campaign.
Ad
The Ad section will consist of your ad copy and creatives. Remember that having at least two ads per ad set is always the best.
Types of Facebook ads
Facebook advertising offers multiple ad types and formats. They are:
Image Ads
Image ads are the most common and straightforward Facebook ad formats. It is a single static image with an ad copy expected to do much work. It fits well for showcasing products, highlighting features, or special offers. Advertisers can use high-quality images that grab attention and create a compelling visual impact.
The common goal is brand awareness, website visits, conversions, app installations, and more. It can be cost-effective to test different visuals and messages before delving into more intricate ad formats.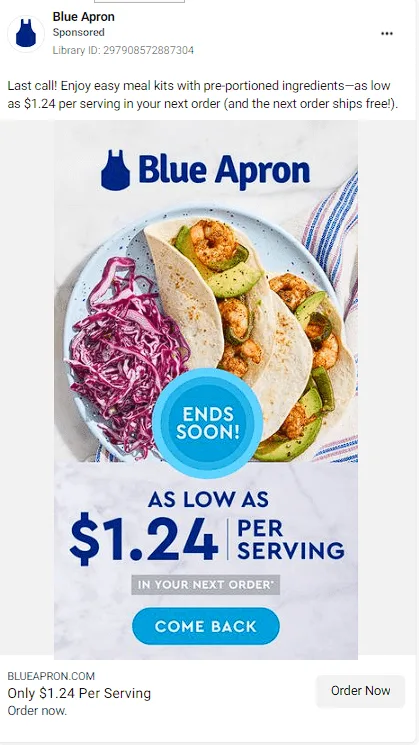 Image ad specs
The acceptable file type is JPG or PNG and should be no larger than 30MB. With a resolution of 1,080 x 1,080 pixels, it must have a minimum width of 600 pixels and a minimum height of 600 pixels. The aspect ratio is 1:1, meaning the image should be square.
The primary text of the ad should be kept under 125 characters. The headline can have up to 25 characters, while the description can have up to 30.
Video Ads
Video ads allow you to use a single video to showcase your products, services, or brands. It is a more immersive experience, highly captivating, and has high engagement rates. It can be used to tell a compelling story quickly, such as showing a product demo, customer testimonials to build credibility, etc.
One of the key advantages of using video ads on Facebook is the ability to retarget audiences. By leveraging Facebook's tracking capabilities, businesses can reach out to users who have previously interacted with their brand. This retargeting strategy allows for more personalized and relevant ad experiences, increasing the likelihood of conversion.
However, video creation will consume more time and dollars than a single image.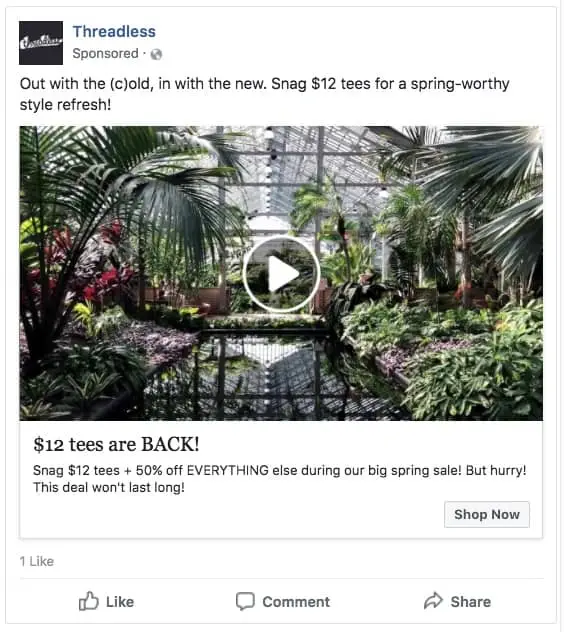 Video ad specs
It cannot be over 240 minutes long, and Facebook recommends sticking to videos under 15 seconds. The accepted file type is MP4 or MOV, with a maximum file size of 30 MB. The aspect ratio should be between 9:16 to 16:9, with the highest resolution possible.
Also, you should pay attention to video orientation (mobile experience), captions, and delivering key messages early.
Carousel Ads
Carousel ads allow you to upload and showcase ten images or videos in a single ad unit. This type of ad format is perfect for demonstrating the features of different products, showcasing various services, or telling a visual story. An absolute for e-commerce businesses to display their products multiple in one ad.
Also, FB will automatically optimize the order of the cards based on performance and display the one that it finds more engaging. You will also have access to data in analytics pointing out which images or videos resonate most with your target audience.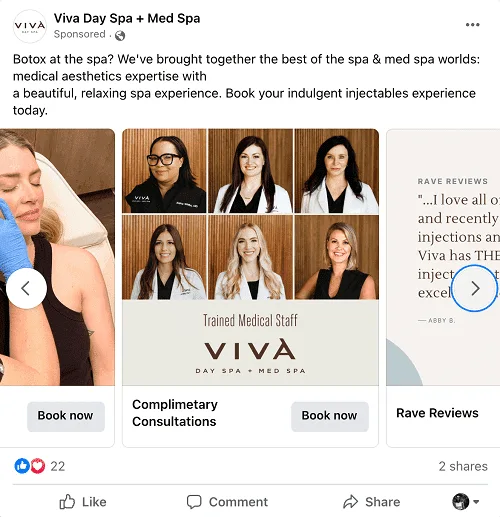 Carousel ad specs
Each image should have a recommended size of 1080×1080 pixels, while videos should have an aspect ratio of 16:9 or 1:1. The character limits for ad copy are 125 characters, 40 characters for the headline, and 30 characters for the link description.
Collection Ads
Collection ads are mobile-optimized ad formats. It is a powerful tool for advertisers to showcase their products and encourage users to make purchases within the Facebook app.
These ads feature a primary image or video and additional product images below it. Users can expand the collection by clicking on the ad and view more details about each featured item.
One of the standout features of it is the seamless integration with product catalogs. This means that the products displayed in the ad can be dynamically populated based on the user's behavior, preferences, or interactions with the brand, ensuring a personalized shopping experience.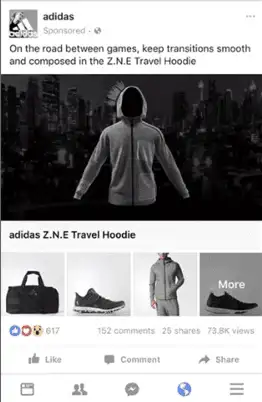 Collection ad specs
Facebook recommends using an image size of 1,200 x 628 pixels and an image ratio of 1.9:1. Additionally, the ad text should be concise and restricted to just 20% of the overall image space.
Instant Experience ads
Instant Experience ads on Facebook are a powerful tool to engage your target audience. These mobile-only interactive ads allow users to tap, shift the screen in different directions, and zoom in or out, creating an immersive and captivating experience.
Facebook suggests using five to seven visuals in each ad for better engagement. Facebook has premade templates to save you time.
Incorporating Instant Experience ads into your Facebook advertising campaigns can significantly enhance engagement and drive better results. Take advantage of the premade templates and make your ads visually captivating, creating a memorable experience for your audience.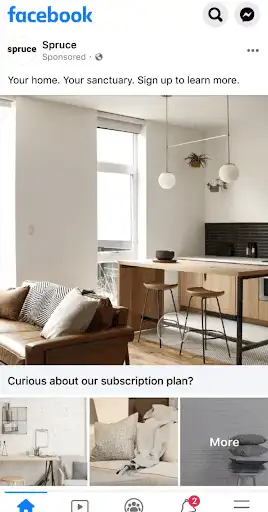 Instant experience ad specs
For images, the acceptable formats are JPG and PNG with a minimum resolution of 1080×1920 pixels. The file size must be below 30 MB. For the Tilt-to-Pan image type, the recommended size is 3000×1920 pixels.
For videos, the recommended file formats are MP4 and MOV. The aspect ratio is 9:16. However, you can use 1:1 or 16:9 aspect ratios. Facebook recommends 15-second or shorter videos, but the maximum length can be up to 2 minutes. The file size for videos is 4GB.
Lead ads
Lead ads are a mobile-only ad format that aims to make it easy for people to share their contact information without typing. It is a powerful tool allowing advertisers to collect leads directly within the Facebook platform.
These ads can be used to collect email sign-ups, manage inquiry forms, and offer deals or promotions, making it easier for businesses to generate leads and engage with potential customers. Several automakers have successfully used them to encourage test drives.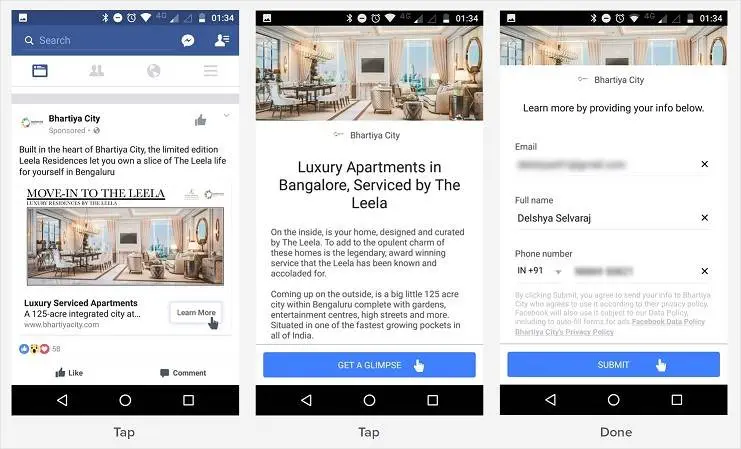 Lead ad specs
The recommended image size for lead ads is 1,200 x 628 pixels, ensuring the ad is displayed properly across different devices. The ad copy text is limited to a maximum of 90 characters, allowing advertisers to convey their message concisely. The headline and link description have character limits of 25 characters and 30 characters, respectively.
To ensure transparency and security, Facebook requires advertisers to include a privacy policy link and a link to their website in lead ads.
Slideshow ads
Slideshow ads are an alternative to video ads for markets with slower internet connections. These ads allow advertisers to create a dynamic and engaging visual experience without needing video; however, you can use a single video, too.
You can use multiple images to tell a captivating story if you do not have videos.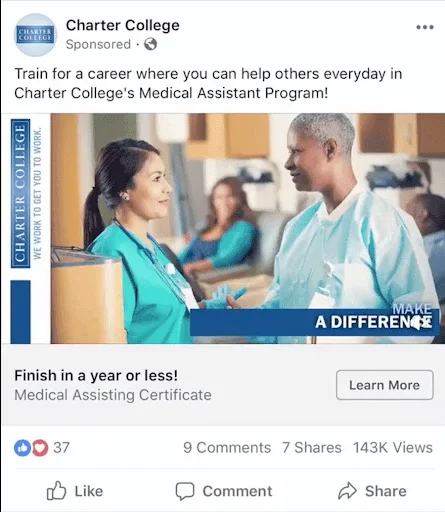 Slideshow ad specs
The recommended file types for slideshow ads are JPEG and PNG, with a maximum file size of 1GB. The resolution should be 1280 x 720 pixels, ensuring the ad displays properly across devices. You can use up to three to ten images.
The text limit is 90 characters for the ad copy text.
Stories ads
The hint is in the name: the Stories ads appear as a mobile-only full-screen vertical video format between user stories on Facebook. Stories ads help maximize real estate without expecting viewers to rotate their screens.
It seamlessly integrates with the user-generated content in the Stories feed, making it less intrusive and a more casual experience. You create immersive narratives using images, videos, and carousels. However, these ads are short-lived (24 hours only).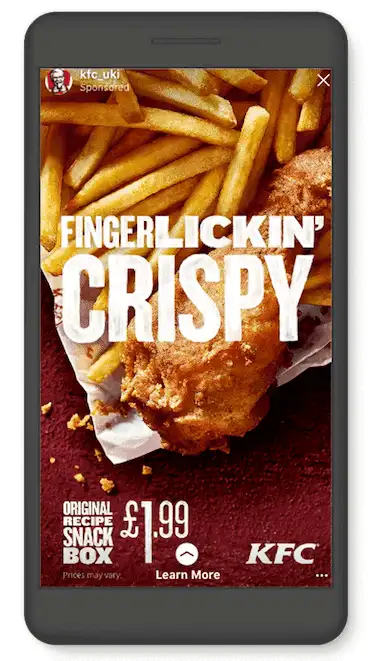 Stories ad specs
The images and videos both should have a 9:16 aspect ratio. The recommended video duration is 5-15 seconds.
Messenger ads
Facebook Messenger ads appear directly in the Messenger app, allowing businesses to engage with users more personally and interactively. Running click-to-Messenger ads is a great strategy to start conversations with potential customers.
These ads prompt users to click on a call-to-action button that directly opens a chat window within the Messenger app. This seamless transition enables businesses to provide instant customer support, showcase products or services, and even facilitate transactions within the chat.
One of the major benefits of Messenger ads is the potential for higher conversion rates and ROI. By engaging users in direct conversations, businesses can better understand their needs, address their concerns, and guide them through buying. This personalized approach builds trust and helps businesses to deliver tailored messages to potential customers, increasing the likelihood of conversion.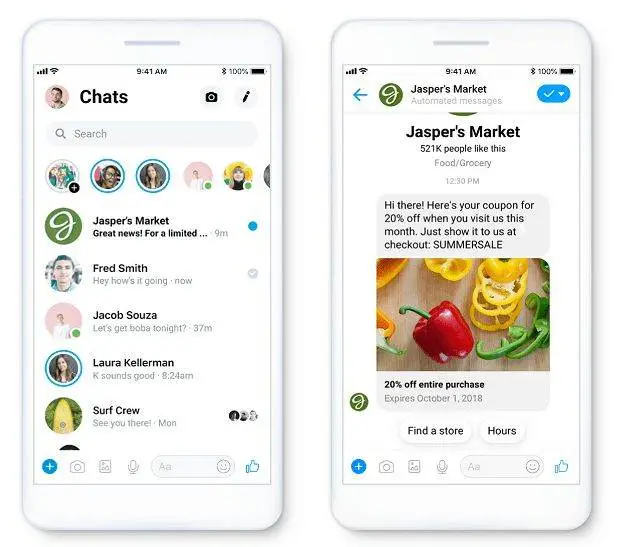 Furthermore, you can use chatbots to handle large volumes of inquiries with minimal effort.
How to post ads on Facebook
Okay, finally, it's time to learn about Facebook advertising. In this tutorial, I will show you how to start with Facebook advertising using the Ads Manager. However, here is the overview of what the steps are:
Step 1. Go to Facebook Ads Manager
You must create Facebook Business Page for Facebook Advertising. If you do not have it, the good news is it is easy to create. Go to the Pages Section and click '+ Create new Page."
*Additionally, you can click here to go directly to it.
Fill in the information and images to create your Facebook page.
Step 2. Choose an objective
When creating a Facebook ad campaign, the first step is to choose an objective that aligns with your advertising goals. Selecting the right objective for your campaign ensures your Facebook ads are optimized to achieve your desired outcomes.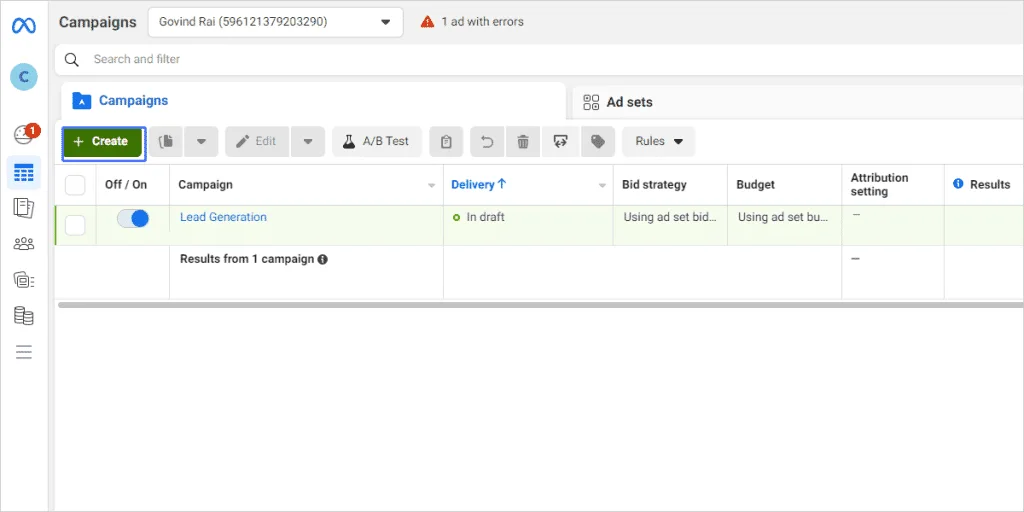 Select the Campaigns tab, click Create, and Choose a campaign objective. It offers 6 objectives to help you achieve your marketing goals.
Sales
Leads
Engagement
App Promotion
Traffic
Awareness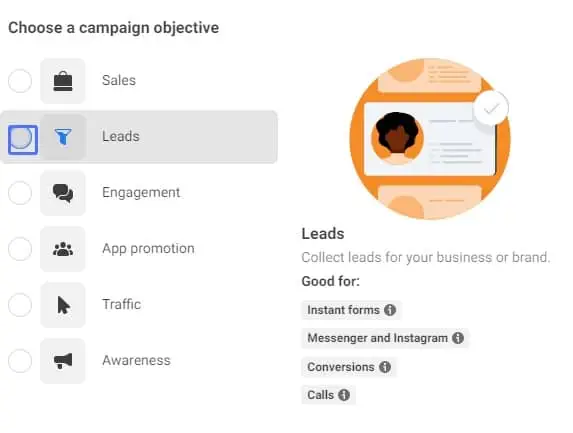 Sales: The "Sales" objective primarily targets businesses retargeting a warm audience. You must choose this objective to target users aware of your product and have completed their Awareness and Consideration stages in the buying journey. So ideally, for targeting someone at the bottom of your funnel.
Here is what Facebook states: "Find people likely to purchase your goods or services. If you want to reach people who are most likely to make a purchase, such as through an ecommerce site, you can use the sales objective. You can also optimize for other actions, such as adding an item to the cart."
Leads: The "Leads" objective is good for collecting leads in return for some offers.
Here is what Facebook has to say about it: "Collect leads for your business or brand via messages, phone calls, or signups. If you want potential customers to sign up for a monthly newsletter, leads can help you reach people who want to share their information and learn more about your business."
Engagement: Use the "Engagement" objective if you want to get more shares, likes, and comments on ads and posts. Your goal is to increase brand awareness.
Facebook says, "Find the people most likely to engage with your business online, send a message, or take desired actions on your ad or Page. If you want people who are interested in your products or services to start a conversation via Messenger, this objective can reach potential customers that are more likely to do so."
App Promotion: The "App Promotion" objective suffices and probably needs no more explanation. If your end goal is for people to install your app, this is the one you choose.
Facebook says, "Get people on mobile devices to install or take a specific action within your app. If you want potential customers to make a purchase through your app or try a new feature, you can create an app promotion campaign."
Traffic: The "Traffic" objective is best if your goal is to send traffic to your website, app, or FB event. It is good for link clicks and landing page views.
For example, if your goal is to drive website traffic, selecting the "website traffic" objective is the most suitable choice. This objective is designed to optimize your ads for link clicks and encourage users to visit your website.
Facebook mentions, "Increase traffic to an online destination of your choice. Send people to a destination, like your Facebook Page or shops on Instagram, website, or app. If you're having a flash sale in your shop or want to send potential customers to a web page that describes your services, this may help drive traffic to those destinations."
Awareness: You should use the "Awareness" objective if your goal is to reach a broader audience for the first time and educate them about your product/service. It is for letting people enter the top of your sales funnel.
Facebook writes, "Bring awareness to your business. This objective will help you reach the largest number of people who are most likely to remember your ad. If your business is brand new or has recently changed names, awareness may help potential customers become more familiar with your business."
Step 3. Creating a Campaign
Once you have selected the right Ad Objective, the first step is to name your campaign. It is an important step as it helps you keep track of your campaigns and easily identify them later, especially when running multiple campaigns.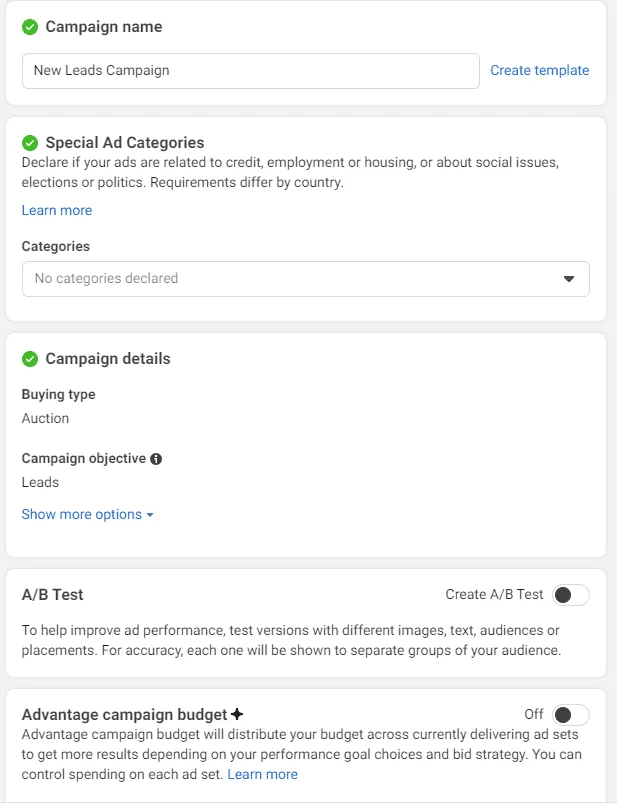 Campaign name
Under the Campaign Name, enter the name. You can choose a name relevant to your campaign's purpose or theme. We recommend using the following format: "Agency/Client Name_Objective_Product Name_Campaign Type," e.g., NYRoofer_Leads_ResidentialRoofing_Retargeting.
Aim for a short but descriptive name that can be easily identified.
Special Ad Categories
Next, if you're running ads related to "credit, employment or housing, or about social issues, elections or politics," you will need to declare by choosing from the "Categories" drop-down under the "Special Ad Categories" section.
Campaign details
You can skip the "Buying Type." It is, by default, "Auction."
Campaign objective
You can skip this, too, as you have already selected an Objective.
Campaign spending limit
Clicking the "Show more options" will reveal another option: "Campaign Spending Limit." You can define a budget on the campaign level here.
This option cannot be used if you are using a "campaign lifetime budget" option.
A/B Test
Turn on "Create A/B Test" if you want to run test variations and find out the winning ad combination. Facebook will automatically show your ad version to separate groups of audience.
The next one is "Advantage Campaign Budget+." if turned on, Meta will automatically allocate your campaign budget to an ad set performing better than others. You can use it if you run at least two ad sets.
Step 4. Creating Ad Set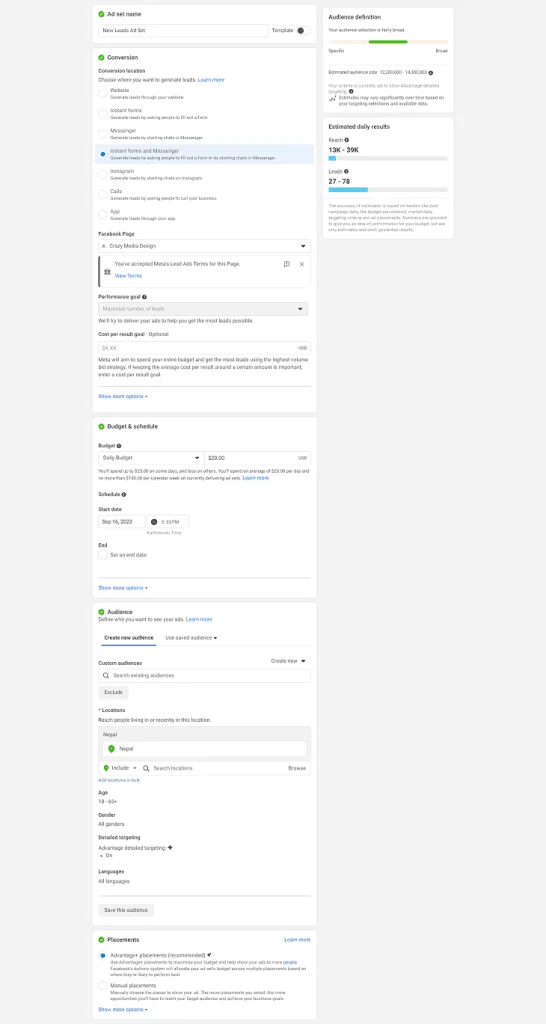 Ad set name
The first thing to do is give the Ad Set a name. We recommend starting with the following format: Audience segment_Location_Placement_Goals_Variations. E.g., Home Owners_Albany_News Feed_Leads_Discount
Conversion
In this section, you will see multiple options under "Conversion location," based on it, you will have to choose a conversion event. Also, note that the options under Conversion Location change based on the Campaign objective.
The Conversion section will not appear if your Campaign objective is "App" or "Awareness"
Performance goal
The "Performance goal" is automatically selected by Facebook based on the Objective and Conversion. However, you can click the drop-down to see other options available to you.
Cost per result goal
If you want, you can tell Meta what is the desired amount you want per result. It will do its best to achieve the best results within your budget.
Dynamic creative
You can upload multiple videos, images, headlines, and other assets, and Meta will automatically combine to get the best results.
Budget & Schedule
Under the Budget dropdown, you will see "Daily Budget" and "Lifetime Budget". Choose the one you want and then enter the amount.
Schedule
The next step is to choose the start date and the end date. The Schedule option is available if you choose Lifetime Budget.
Remember, the budget and schedule you set for your Facebook ads will greatly impact the reach and frequency of your campaign. By carefully considering your campaign's goals and your target audience's behavior, you can optimize your budget and schedule to maximize the effectiveness of your ads.
Audience
To ensure the success of your Facebook advertising campaign, it is crucial to target the right audience. Effective targeting is key to maximizing your return on investment (ROI), allowing you to reach potential customers most likely interested in your products or services.
You can define the Location, Age, Gender, and Language.
Additionally, you will see "Detailed Targeting." You can refine your target audience by including or excluding Facebook users based on demographics, interests, or behaviors.
Also, at the top, you will see the option "Create new audience" and "Use saved audience." You can upload the data of existing customers, people who have interacted with your business, or the audience type you want to target on Facebook or exclude.
Please keep an eye on the right-hand side of your screen, indicating Audience definition. You will know the estimated audience size based on your input to Meta on the target audience.
Placements
In this section, you will see "Advantage+ placements (recommended)" and "Manual placements."
When the Advantage+ placements are selected, Meta will automatically place your ads across Facebook, Instagram, Messenger, and the Audience Network for the best results.
In Manual Placements, you can choose the Devices, Platforms (Facebook, Instagram, Audience Network, and Messenger), and Placements (Feeds, Stories and Reels, In-stream ads for videos and reels, Search results, Messages, and App and Sites)
If you are new, I recommend leaving it as it is. Monitor reports to determine what ad placements work best. After that, you can use Manual Placements to control where your Facebook ads appear.
Step 5. Create your ad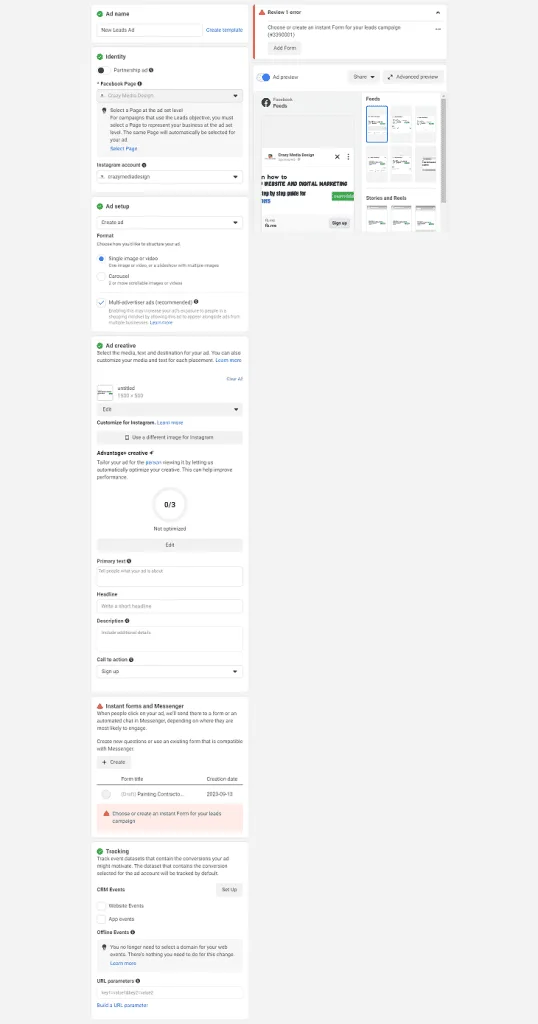 Ad name
It is the last one you have to give a name. You must name the ads in a way that becomes easier for you to understand in the future. Try "Creative Type_Descriptor_Ad Format_CTA_Version. E.g., "Video_Testimonial_15sec_BookNow_V1"
Remember that at the end of the day, there is no hard and fast rule, but the rule of thumb is to name the campaign, ad set, and ad in a way that will be easy for you to recall.
Partnership ad
If you turn on the "Partnership ad," Meta will run Facebook ads with creators, brands, and other businesses.
Identity
In this section, you can choose the Facebook page and the Instagram account you want to advertise for.
Ad setup
In this section, you will create the actual ad. You can either select "Create ad," "Use existing post," or "Use Creative Hub mockup."
Depending on your campaign objective and desired audience engagement, Meta supports three formats: "Single image or video," "Carousel," or Collection."
A quick recap of the format
The single-image ad lets you showcase your product or service with a compelling visual. A video is best for telling short stories, testimonials, or product demos.
Carousel ads are a great option if you want to tell a story or highlight multiple products. These ads allow you to showcase multiple images or videos in a swipeable format.
The Collection ads are visually immersive experiences. These ads feature a primary image or video with multiple smaller accompanying images.
Ad Creative (write your copy)
Upload your media files under "Media."
When it comes to writing effective ad copy for Facebook ads, it's important to grab the attention of your target audience and persuade them to take action. The ad copy has three components: primary text, headline, and description.
Under the "Primary text," write the ad creative, which has to be 125 characters or less. It's a preview of your ad, more like an Elevator Pitch.
Then, write your "Headline" (40 characters or less). To create an attention-grabbing headline, you must use words that resonate with your potential customers. Try coming up a headline that is just five words long. Split test both positive and negative emotions in your headline.
In the Description, focus on creating desire by offering a solution to a problem or addressing a need that your target audience may have. Emphasize the value they will receive by using your product or service. For instance, you could mention the convenience of learning at their own pace and the success stories of previous students.
Facebook allows you to write five different descriptions for the same creative. It will automatically pick the best-performing description. Moreover, the description may or may not appear based on the placement. It's position will vary, too.
Another important option is "Optimize text per person." So what Meta does is it plays around with Primary text, Headline, or Description to improve performance from person to person based on what it knows about the specific user behavior.
Call to action (CTA)
A CTA is a button or link that prompts audiences to take a specific action after seeing your ad. Meta has various Call to action options to choose from.
Book now
Download
Shop now
Get offer
Watch more
Get quote
Learn more
Sign up
Do not fret. Choose the one you think makes sense for now. You can later A/B this, too.
Destination
Let the Meta know where you would want to send your leads, "Website," "Instant Experience," or a "Facebook Event"
Tracking
"Website Events" tracking lets you track specific user actions on your website, such as completing a purchase or filling out a form. Install Facebook Pixel on your website to accurately measure and optimize your ad campaigns based on these events.
"Offline events" allows you to upload offline sales and interaction data to measure ad conversion. You can use offline event tracking with a CRM system. It allows you to bridge the gap between your online ads and offline conversions.
Step 6. Publish
Once you have set up and configured your Facebook ad campaign, click the "Publish" button.
Once you publish your ad, it will go through a review process by Facebook to ensure it complies with their advertising policies. This review process usually takes up to 24 hours.
During this initial learning period, Facebook will gather performance data for your ad. This data is crucial to optimize the delivery of your ad and improve its effectiveness. It is important to note that during the learning period, your ad's performance may not peak as Facebook is still learning who the most relevant audience is for your ad.
After the learning period, your ad will reach your target audience more effectively. Throughout the campaign, you can monitor the performance metrics, such as click-through and conversion rates, to optimize your ad further and improve based on the data.
Publishing your Facebook ad is just the beginning. By closely monitoring the performance data and continually optimizing your campaign, you can maximize its potential and achieve your marketing goals.
Test everything
Split testing involves creating multiple versions of your ad and running them simultaneously to see which performs better. You can identify what resonates most with your audience by testing different variations and optimizing your ad performance accordingly.
Testing everything and running A/B tests helps you optimize your current ads and paves the way for future campaigns. By understanding what works and doesn't, you can refine your marketing strategy, improve your advertising budget allocation, and ultimately achieve better results on the popular social media platform.