With the world on its tiptoes 24/7, opportunities come and go in waves. Hence, it's only rational that you are hyped to grow your business and grow it fast. So, it is time to adopt highly effective growth hacking tools that can streamline your marketing efforts. In case you were wondering where to start, brace yourselves.
We have done all the legwork for you. In this blog, we have compiled and broken down the details of the top 18 growth hacking tools you might require at every stage of the growth hacking funnel. So, let's get started.
Explaining the Growth Hacking Funnel
The Growth Hacking Funnel comprises five stages. Simply put, each stage is a simplified representation of your growing interaction with your customers. The more you pass through the funnel, the higher your chance to sustain your business.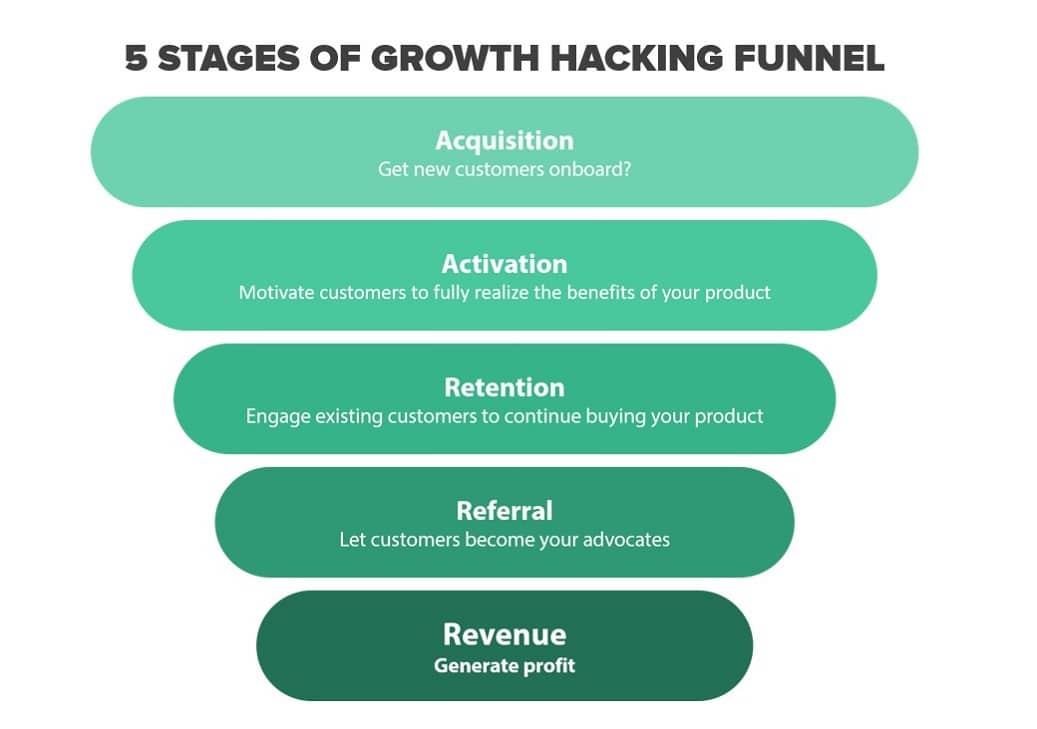 Hence, the growth hacking tools' objective is to expedite your journey to the ultimate stage: Revenue Generation.
Customer Acquisition Growth Hacking Tools
1. Mailchimp: Email Marketing
Mailchimp is a must-to-have marketing platform for small businesses. It offers all the essentials tools for your customer acquisition efforts. In our opinion, Mailchimp's cloud-based email platform is one extremely powerful tool that can help you automate your email marketing campaigns.
Moreover, you can also create customer-centric ad campaigns, create landing pages, bulk-send postcards, and many more. To add, you can further track your campaign with reports and analytics.
Finally, if you are starting, Mailchimp can be your ideal solution. The free version allows a maximum of 2,000 subscribers or 12,000 emails/month.
Pricing: Mailchimp pricing plans start from free to $299/month. However, the most popular plan starts at $14.99 a month.
2. SessionCam: Website Optimization
In this world of information, data is power. SessionCam can work wonders for first-time websites by providing accurate customer data. The tool allows you to watch recordings of your website visits and identify pain points. A better-optimized website, in turn, translates to a better conversion rate.
Other tools in this category that you can see for yourself are CrazyEgg and Hotjar.
Pricing: The free version allows one domain and up to 5 million page impressions per month. The website does not provide information for the Business and Enterprise Plan. Nonetheless, you can always contact them.
Did you know that 70% of the total website traffic comes from the top 5 organic searches? So, not ranking translates to not being in business after all. And we all know how backlinks can potentially help your SEO efforts and, in turn, organic ranking.
Hence, it is time you built up a solid backlink profile comprising a healthy balance of do-follow and no-follow links. Contrary to what people say, nofollow links can drive more traffic. More traffic equates to more customer engagement, more conversion, and eventually more sales. It is where BacklinkSEO comes in. Benefits Provided
A birds-eye view of your backlink profile
Rich insights on your backlinks that can help you in customer acquisition
Deeper analytics of your link status
Valuable domain data
Capitalize on your top pages smartly
Pricing: Starting from $10/month for entrepreneurs to $99/month for agencies, the pricing plans for BacklinkSEO are pretty affordable, in our opinion.
Customer Activation Growth Hacking Tools
The growth hacking tools that we described in the previous section also apply in this section as well. Nonetheless, here are some other tools you might consider.
1. Userlane: Customer Onboarding
Learning curves for software can be steep. So steep that you fail to activate your customers or guide them to the next level. So, Userlane comes forth with its unique solution.
It is a navigation system for software. The tool simplifies your customer onboarding with interactive virtual trips through your software interface. As free brownie points, you can further use the software for even your employee onboarding.
Pricing: There is no fixed pricing plan. Custom plans are contingent on the number of users and features.
2. Landbot.io: Chatbots for Customer Engagement
If we had to list down the most crucial task during customer activation, answering your customers would definitely top the list. However, as the number of customers increases, it gets increasingly difficult to handle all customer queries. It is where chatbots come in.
Landbot.io is an interactive chatbot builder designed for marketers with zero coding knowledge. You can create and deploy your bots by yourself. Besides, you can also track your communication and gain valuable analytics.
In case you were looking for Facebook Messenger chatbots, we recommend ManyChat.
Pricing: The most popular Landbot plan starts at 100€ per month. However, you can also avail yourself of free and custom plans.
Customer Retention Growth Hacking Tools
This stage is all about practicing relationship marketing. The ultimate objective is to keep the churn rate lower and retain existing customers. So, here are the tools you might need for this very purpose.
1. HubSpot: Inbound Marketing Platform
HubSpot has built an ecosystem in the marketing, sales, and service industry. The platform offers a free-tool suite that can help your business grow, build, and nurture relationships with customers and ultimately retain them.
Customer Relationship Management (CRM) Software.
Marketing software for automation and lead generation.
Sales software for maintaining B2B relationships.
Content Management Software for world-class content marketing.
Customer Service Software for delivering smooth service.
Pricing: From $40/mo to $3,200/mo, HubSpot has space for all types of business. It is to be noted that, apart from the CMS hub, the other HubSpot products have free versions.
Surveys are a great way to engage with your customers. Crowdsignal is a platform that allows you to create on-demand surveys and polls.
You can further customize the look and feel of your surveys as per your brand guidelines. Moreover, you can share them across multi-channels. Therefore, you can analyze your survey results and act on them to ensure customer satisfaction.
However, some customers tend to skip on static forms. In that case, you can try Typeform. Typeform enables you to humanize your forms and render your surveys interactive and humane.
However, it is not uncommon to chase false leads and send surveys to dead-ends. Therefore, we also recommend using an email verification platform such as Verifybee. This platform verifies your customer emails if connected to your existing CRM.
Pricing: As expected, Crowdsignal has a free version. The pricing plan starts at $15/month. Furthermore, you can avail of discounts by choosing annual billing.
Referral Growth Hacking Tools
Referral programs originate from our primitive assumptions. Humans naturally believe their peers more than third-party ads. Hence, brand recommendations from the closest people are impactful enough to convert customers into your advocates.
1. Invitebox: Referral Program
Adding referral programs to your website becomes simple with Invitebox. The platform has all the essentials to build a referral program out of scratch.
You further have the flexibility to create instant-reward programs, goal-based programs, giveaways, contests, and many more. To add, you can track your referral campaigns with detailed reports and analytics.
Other platforms in this category that might interest you are ReferralCandy, Reward Stream, and Woobox.
Pricing: The plans for Invitebox ranges from $29/mo to $199/mo.
2. Buzzsumo: Influencer Marketing
Influencers act as shortcuts to referral programs. Influencer marketing takes half the time of referral programs to build a solid ROI. Moreover, it is also crucial to listen to how people are reacting to your marketing efforts. Buzzsumo does all of that and more.
Benefits of Buzzsumo
Get an overview of your most potential and high-performing content.
Discover your most loyal customers and the influencers who can spread positive word-of-mouth about your brand.
Keep track of comments, brand mentions, and social shares so that you can participate as well.
Strengthen your brand research.
Pricing: Buzzsumo starts at $99/month and can range up to $499/month for custom plans.
Honorable Mentions for Growth Hacking Tools
Here are some honorable mentions, tools that we believe can contribute to your business.
1. Zapier: Business Automation and Integration
In simple words, Zapier connects. The platform lets you integrate over 2000 apps. You can also link your web apps. Furthermore, you can share information within different apps and automate your workflow by seamless integration.
The email you received in Gmail can be copied to Dropbox, shared with your teammates in Slack within seconds with the help of Zapier.
Pricing: Zapier has different plans for your various needs. The monthly plans of Zapier start at $19.99, $49, $299, and $599, respectively. The platform has a free plan as well.
The demand for copywriting isn't going down anytime soon. Whether creating a new landing page, introducing a new brand, or even sending out emails to customers, copywriting is inseparable from your marketing efforts.
With Grammarly, your copywriting becomes simpler than ever. Gone are the times you worry yourself to death over the possibility of simple grammatical errors. Grammarly can also help you refine your language and set a tone for your brand apart from grammar check.
The Grammarly editor will even clarify your sentences and suggest alternative words to engage your customers. Simply put, it's like having grammar police tailing on you 24/7, but with the right intention. Below is just a glimpse of what Grammarly can do for you.
3. Milanote: The tool for organizing creating projects
If you love Slack, then you need Milanote. The visual workspace is second to none, making it super easy to organize ideas and share concepts. It is a hybrid next-gen tool with tons of features for creative environments. The best part is it still has an elegantly simple interface that wouldn't overwhelm a user.
The tool uses a "limitless board" model. You can create amazing mindmaps and vision boards using it.
They have a well-documented use case.
It has 4.85 out of 5 ratings from 29 users in Capterra. Next, you can check the use case.
Pricing: It has two free plans which allow you 100 notes, images, or links. And the professional, which is $9.99 per month per person billed annually.
Conclusion
The tools that we mentioned overlap across some or all of the growth funnel stages. There are thousands of growth hacking tools for virtually every need. Compared to the volume, we merely scratched the surface.
So, it is only natural that we might have skipped on some incredible growth hacking tools out there. But, if we did, feel free to comment below on the tools that you suggest.