Processes automation is a global trend and the goal of pretty any ambitious company. And automation of Marketing – is no exception. According to Digital Marketing Institute, this benefits in a 14% Sales efficiency increase and a 12% reduction in marketing expenses.
Nevertheless, the reality is harsher than many might expect, with purchased software licenses tend to gather dust on the shelf, and the majority of a team reach their data-processing maximum via MS Excel – solely.
A successful marketing automation strategy is not all clear sailing in calm waters, so we've compiled a few best practices on how to develop it.
What is a Marketing Automation Strategy?
Marketing automation supposes assigning major routine marketing operations to software, with people continuing to perform tasks that machines are simply not able to deliver. Therefore, diverse marketing channels' management is backed up by numbers, more predictable, and scalable.
While organizations strive for Big Data and move online, a talent to execute marketing automation has become one of the TOP-level technical skills, by 2020.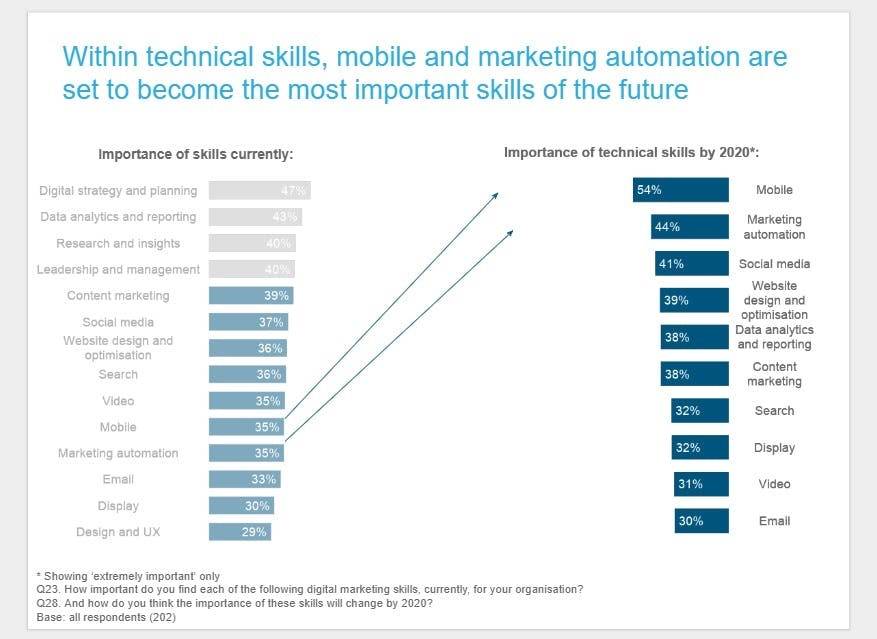 Here are just a few basic marketing tasks that are either completely or by most part handled by programs:
RTB systems identify users' via cookies, pixel tags, or other benchmarks and conduct auctions among ad providers – to show the most appropriate banner or text ad to every single viewer. Add to that a sole bidding may last 100 ms or less, and you get an amount of work that no human is simply able to do.
Google, Bing, Yandex, Baidu – search engines are not selfless assistants for the common people, they're true money-gen giants. To generate profits, they were equipped with AI and mind-blowing data-proceeding potentials. For example, a single paid ad on the Google results page is presided by an extensive amount of operations, such as assessing keywords' and ads' content eligibility, determining user's language and location, calculating Ad Rank, etc. The system recommends bids, spending limits, best-performing keywords, and gives prospects. Again, no individual can perform these jobs by hand.
Email automation is vital for subscription-based businesses, e-commerce websites, B2C lead generation, or whatever purpose heavy outreach. The software can not only speed up the process but also – form complete email sequences and help you achieve marketing or sales goals. Furthermore, without a reliable email validator like Hunter, you are at great risk of being banned for spam.
Social media lead generation
Both Facebook and LinkedIn offer excellent tools to automate led gen. You don't need to turn into a detective to find leads' profiles and target them – the system will perform this for you. The only good-to-have inputs are a list of leads' emails, quality visuals, and consistent content.
Multichannel activities management
If you do perform cross-channel marketing (and we hope that you do), you can automate the alliance and timing, as well. Marketing programs support integration with mailing services and CRMs, and numerous tracking software. Your leads, conversions, and sales data will be transferred between programs that will autonomously process it and far more – generate strategic insights. Who says this isn't a dream of every business?
Developing a successful marketing automation strategy
To obtain benefits from marketing automation, it's important to understand when to launch it and how. There are 3 undersized yet frequent traps in the matter:
Failing to consolidate different funnel's stages
This is a common problem of either sales, or marketing, or lead gen funnels' automation. While the "How to.." issue is more or less clear – on top-of-the-funnel stages, dealing with middle and BOFU causes challenges.
Say, you need to increase brand awareness. You choose to launch a series of tutorial videos on YouTube to accomplish this goal. You create an account, navigate to Studio, create and upload video – you make these all arise. After a while, the system provides you with automatically processed statistics about achievements, such as views, watch time, and click metrics.
The puzzle is – how to advance with collected data through the sales funnel? Is it possible to push engaged users toward consideration, decision, and purchasing steps automatically, or human mediation in this process is irreplaceable?
The truth is that automation tries may be stuck at some point. And – that's okay. Thorough analytics, leads' nurturing, content creation, and strategic planning – this all demands involving people, nevertheless. The only issue is whether your company is able to find an optimal blend of manual and machine labor.
Another prevalent automation pitfall is focusing efforts on existing potential, instead of trying to grow it. Consider a shallow but illustrative example. You have a leads database that grows by 2% per month. You decide to purchase a program that will speed up data gathering and processing 10 times monthly. A tempting yet wrong business decision is to utilize software to work out existing databases only. Because in this case, within a couple of months, your marketing team will utterly be "out of stock" with leads. Instead of shuffling in-use information, spend time and money on automating new information gathering – for as much as possible.
Mere analysis experiences
Employees are the biggest asset to reach computerization intentions. Even though you've obtained the ever-best software licenses, equipped the office with up-to-date hardware, and developed distinct procedures, without people able to handle these – efforts will be money down the drain. Not surprisingly that businesses spend huge money on employees' training – in the US alone these expenses amounted to $83 billion (!) in 2019. Neglecting human resources' developing and hard wages' cutbacks – these are two automation success-killers, indeed
Understanding where to use automation
Automation is usually required within the following areas of activities:
lead generation
conversions' tracking and optimization
email newsletters
on-site and video advertising
CRM.
Hence, Sales and Marketing are in the frontier to administer automation efforts. You should think about it if the company undergoes one or several of the following:
a substantial and firmly growing flow of leads
the need for detailed customers' journeys and Buyer personas emerged
you plan to perform a cross-channel leads' nurturing
you plan to scale business – either horizontally or vertically.
Remember, that marketing automation isn't a guarantee of success. It's a somewhat desirable environment to boost efficiency metrics. Consider these ideas were to adopt automation:
mapping customers' experience
creating personalized or dynamic ads' content, including visuals
designing clients' re-engagement
A\B tests
sales predictions with AI
auto-responding and drips.
Establish benchmarks
In most cases, the automation leads to scaling and vice versa. In order to scale successfully, an in-depth relation between actions and results is required. In other words, to control marketing automation, you require benchmarks.
But it's not that simple. In fact, 50% of experts say that measuring automation performance is the biggest challenge of the entire process. A rescuing idea is to track 3 groups of metrics:
Quantitative
These are "number of…", such as the number of emails sent, ads' impressions, filled-in contact forms, etc.
Behavioral
Do your efforts change leads' reactions? Use click-through and open rates, as well as "cost-per-…" metrics to track behavioral efficiency.
Response
How adequately do your efforts align with the audience's readiness to respond to them? To measure customers' engagement use multidimensional relative metrics. For example, the number of purchased subscriptions to the number of registered App users – for a given period of time.
Research and Development
Marketing is not just about creativity, ideation, brainstorming, and conceptualization. To come up with a positive ROI from automation expenses, research and development shall follow every stage of the process. In developed economies, like the UK, companies can even apply for tax relief on their Digital Marketing R&D activities. These usually include:
producing pieces of helpful computer code
designing databases
developing algorithms to work with business intelligence.
Automation provides endless opportunities to enhance marketing development, with no doubt.
Lead nurturing
Automated leads' nurturing is the major part of entire inbound campaign efforts. Studies show that 77% of buyers want to consume distinct content – at different stages of their purchasing journey. 35-50% of sales are obtained by vendors who were the first to respond to requests. Thus, the ability to respond quickly and with relevant content are keys to accelerating sales. The right software, a few settings – and your lead nurturing will advance to the very next level:
Email automation programs
Quickly extract a valid email address from the long list, send and respond to thousands of letters with minor human involvement. Think of MailChimp, Snov.io, OptinMonster, Sendinblue, and others.
Campaigns' management tools
Synchronize CRM, SMM, email drips, and major client-facing marketing activities. Think of Salesforce, Basecamp, Trello, and others.
Content automation programs
Produce engaging content and perform multiplatform scheduled publications. Think of Elink.io, CoSchedule, Zapier, and others.
"All-in-one" lead's nurturing software
Create custom segments, score leads, and launch different campaigns through a single "control center". The most popular programs: Nutshell, Leadboxer, HubSpot, and others.
Benefits of using an effective marketing automation strategy
If executed accurately, marketing automation will bring a number of perks to your company. To name the TOP-3 – better content targeting, customer experience, and leads' quality.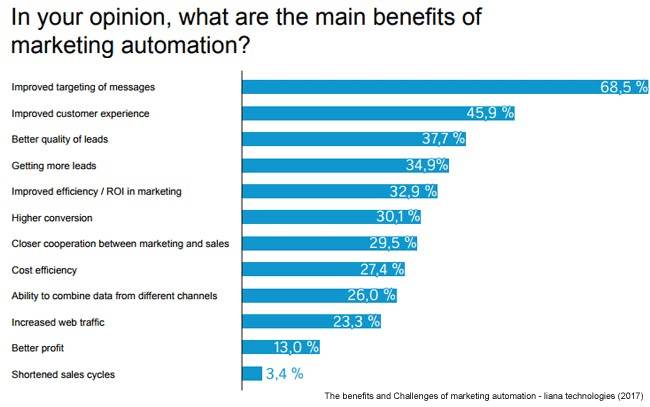 Scaling of best-performing approaches will turn into increased marketing ROI, teams' productivity, and strategic goals completion. Other principal advantages include:
more qualified leads acquisition
data quality and reliability
better opportunities to measure marketing performance
increased cross-team cooperation
better client's retention
shortened sales cycle.
Despite marketing automation seems challenging, investing in software, personnel, and processes advancement will unmistakably pay off. Even though you may not encounter total perks from the very beginning, with business enlargement and increasing demand for a company's products, the advantages from self-adjusting sales and marketing actions will be more and more clear.